Song & Juniper Hardcover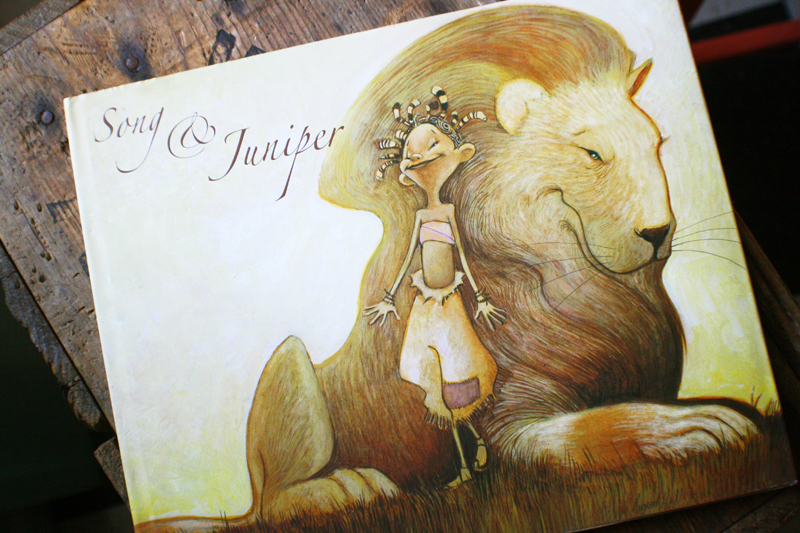 Follow a day in the life of a little girl and her best friend, who happens to be a magical Liger – a lion and a tiger in one, and they are real. They're friendship is simple and special, their world vast and enlightened.
This children's book is a limited first edition that the artist originally wrote, illustrated, and printed in 2005. On Sept. 22, 2014, it earned "Featured Book of the Week" with one of our distributors, Epic!–Books for Kids after our friends at Star Walk Kids made this book available for digital purchase. Portions of the hard cover proceeds are donated to Project L.A.C.E. (Loving Abandoned Children Everywhere).
Each pristine hard cover is 11.5 x 9.5 with 15 pages of rich imagery. The cover was originally painted by hand with acrylic, while the inside story was digitally illustrated in photoshop.
You can purchase a copy on Amazon ranging from $34.95 – $122.66 or you can BUY HERE WITH A PERSONALIZED SIGNATURE TO THE RECIPIENT OF YOUR CHOICE for only $49. Here, you can add a distinctive touch from the author/artist to gift that special child or friend. Otherwise, you have the choice of simply purchasing a flawless book without an autograph on the second button. As for shipping, you may choose First Class or upgrade to Priority for both US and International.
Each book is in mint condition, wrapped in cellophane and bubble wrap, with the corners double bubbled, snuggled inside a 15 x 10.5 bubble mailer. Insurance is included.
You can get an inside peek of the pages here.
Book 2 is in development now and aimed for digital release in 2016!