SONG & JUNIPER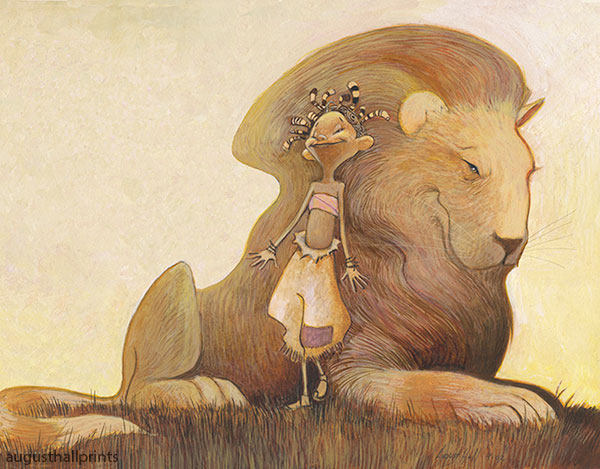 This is the cover to my self-published children's book, and now there is a limited edition of 50 available on large Giclée print.
A good friend, David Kang, wanted to collaborate on a children's book. David is part of Project LACE (Loving Abandoned Children Everywhere), a non-profit organization inspired by his young son, Ethan. The book was made with love; basically, a story about a child, friendship, and harmony with nature. Hard copies of the book are also available for purchase here. Some illustrations were produced on Photoshop, but this cover was originally painted acrylic on watercolor paper. If you want this charming book as an instant download, it is also available online through Star Walk Kids Media.
Each print is made to order, will be personally signed, then rolled in a protective cardboard tube, including a certificate of authenticity. Prints are not matted or framed.
Utilizing the Epson 11880, the print is a high caliber Giclée reproduction using archival ultrachrome K3 pigmented inks on two choices of textiles. Watercolor Sunset Velvet fine art paper is museum-quality acid-free material, which is matte, and comes with a 2-inch border. You may also choose to have this print upgraded on premium Epson exhibition gloss canvas, which is hand treated 3 times with a protective UV coating, and less likely to bend or crease during shipment. A 2-inch mirrored border is added to allow for stretching and framing. Both choices last extensively for a guaranteed life of 80+ years.
Large Image:     40″ x 31.25". With 2 inch border: 44" x 35.25"
Medium Image: 30" x 23.53". With 2 inch border: 34" x 27.53"
Small Image:     20" x 15.62". With 2 inch border: 24" x 19.62"
Will gladly print in other sizes, if requested. Please contact with specific details for new quotes.
FREE SHIPPING! All Prints are made to order. Please allow 4-6 business days for printing and an additional 4-8 business days for packing and shipping. Shipping priority service delivery worldwide. Loss insurance is included and a tracking number will be provided.
*All images are copyrighted © by August Hall. Please contact artist for permission to use image(s) or for licensing.