ZOZOBRA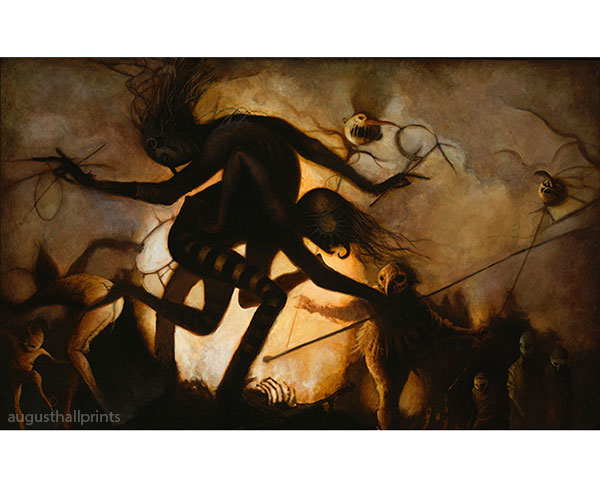 "Zozobra" was painted in 1993 after attending the "Old Man Gloom" festival in Santa Fe New Mexico. It was painted originally acrylic on wood as a final project at Art Center, Pasadena, before moving on to my first job at Warner Brothers. Born in nearby Albuquerque, I was surrounded by Native American and Spanish art. The two cultures combined to make my favorite food, as I miss the smells of the green chili hatching at the supermarkets in the fall.
Each print is made to order, will be personally signed (including a certificate of authenticity), and then rolled in a protective cardboard tube. Prints are not matted or framed.
Utilizing the Epson 11880, the print is a high caliber Giclée reproduction using archival ultrachrome K3 pigmented inks on two choices of textiles. Watercolor Sunset Velvet fine art paper is museum-quality acid-free material, which is matte, and comes with a 2-inch border. You may also choose to have this print upgraded on premium Epson exhibition gloss canvas, which is hand treated 3 times with a protective UV coating, and less likely to bend or crease during shipment. A 2-inch mirrored border is added to allow for stretching and framing.  Both choices last extensively for a guaranteed life of 80+ years.
Large Image:     40″ x 25″.  With 2 inch border: 44″ x 29″
Medium Image: 30" x 18.75″. With 2 inch border: 34″ x 22.75″
Small Image:     20" x 12.5″.  With 2 inch border: 24" x 16.5"
Will gladly print in other sizes, if requested. Please contact with specific details for new quotes.
FREE SHIPPING! All Prints are made to order, so please allow 4-6 business days for printing and an additional 4-8 business days for packing and shipping. Shipping priority service delivery worldwide. Loss insurance is included and a tracking number will be provided.
*All images are copyrighted © by August Hall. Please contact artist for permission to use image or for licensing